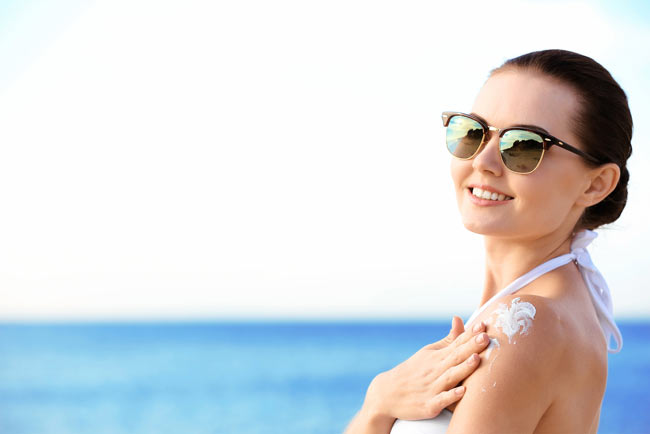 Are you worried this summer will take away the glow of your skin?
It is high time you protect your skin from the scorching sun during this period.
Summer is always associated with vacation; relaxing and having fun on the beautiful beaches.
During this period when you are enjoying yourself on the sunny days, the ultra-violet rays from the sun can damage your skin causing sunburn, skin wrinkles, aging of the skin and in some cases skin cancer.
Don't stress just yet; you can still enjoy the great outdoor activities this season.
Below we have provided you with some sun protection idea which you can try this summer and help keep your skin safe and protected from the hot sun.
Avoid The Sun At Its Peak
This may sound obvious, but it is good to avoid the sun particularly between 10:00 A.M to 2:00 P.M when rays are at their most intense.
Plan your summer activities for early in the morning or late in the afternoon. If you must be outside during this time, then it is advisable you seek shade under a tree, by using an umbrella or any other type of shelter.
Exposure to direct sun rays can be reduced by over 60% by keeping away from outdoor activities during these peak sun intensity hours.
Apply Sunscreen Lotions When Outdoors
While shopping for sunscreen lotions for summer, choose a sunscreen that will provide protection from both UVB and UVA rays.
This kind of a sunscreen will prevent sunburn and other long-term skin effect from direct sun rays. It is advisable that you use sunscreen with a higher SPF; at least SPF 30.
The higher SPF numbers, the greater the protection.
For maximum effect, you can apply sunscreen after swimming, when sweating or after every two hours.
Some of the best sunscreen lotion includes:
Neutrogena Ultra Sheer Dry Touch Sunblock SPF 50+
This is one of the best sunscreen lotions for dry skin in the market. It is known to deliver unbeatable UV protection to your skin. It is dermatology tested and inclusive of helio plex technology which is the latest breakthrough revolution for UV protection. It has a special dry-tough technology that helps it absorb quickly into the skin. The oils in the lotion make you fell lighter. It has sun-blocking effects and makes the skin suppler with oat kernel.
Lakme Peach Milk Moisturizer
Keep your skin well protected from the sun by using Lakme Peach Milk Moisturizer. This sunscreen is known for its special hydrating agents; they include 3 antioxidants and 4 vitamins. It comes with SPF 24 PA ++ and is known to protect the skin from the sun. It is good for all skin type, and it helps to reduce the dark sports, which promote aging. It is the best sunscreen lotion for dry skin that penetrates deep into our skin and leaves no oily effects.
Lakme 9 to 5 Mattifying Super SPF 50
This sunscreen makes your skin look good all through the office hours. It keeps your face refreshed throughout and protects it from UVA and UBV rays. This lotion is apt for all skin type. It is dermatology proven and non-carcinogenic. It nourishes your skin and makes you feel better than ever.
Wear Sunglasses With UV Protection
Protect the skin around your eyes as well as cataracts using sunglasses with UV protection. Eyes are the most sensitive part of your body. Protect them from UVA and UBV rays using sunglasses with 100% UV protection. Also, avoid wrinkles and premature aging of your delicate skin around your eyes by using effective sunglasses. Sunglasses with a close-fitted wrap style frame also helps protect your eyes from dust, debris, wind and snow.
Wear a Hat or Headgear
In addition to sunglasses, wear a wide-brimmed hat that protects your head, face, ears, neck and other parts that are often at high risk. You can choose from various varieties of hats in the market. Pick one that makes you feel comfortable and good about yourself.
Conclusion
Summer is a wonderful time to have fun, relax and recharge your life. It is a time when you want to go for trips or vacation with family and friends. While you enjoy and have fun during this period, remember to protect you skin from the hot sun. Follow any of the above sun protection ideas to take care of your skin. In case you notice unusual scar or spot on your skin, consult with your doctor or health specialist immediately. Protect your skin by giving it a little attention so that it remain glowing beautiful and stylish.