"Fashion is designed to become non modern" – said legendary designer Coco Chanel.
It is an absolute fact, given how quickly trends change. However, whatever they are, in every season there are clothes that never go out of date.
Here are eternal autumn fashion classics:
Trench coat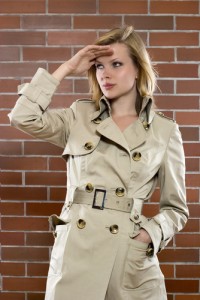 This elegant garment located right on the border goes between conservatism and sexy, suits to all ages, and stands equally well with trousers, jeans and skirt.
Choose a model with a double-breasted buttoning and do not tighten the belt buckle, but tie a knot. If you wear a trench coat with skirt, keep in mind that it should be longer than the same skirt.
Pantsuit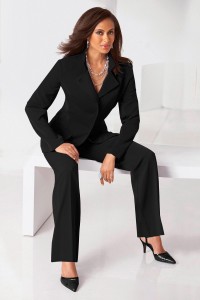 Pant-suit with a straight black suit trousers and a clean cut is one of the most powerful weapons of the fashion business woman.
But it can be worn very well and out of the office – especially if the jacket is unbuttoned and the bottom is selected for a casual top. When choosing a costume, bet on the matter that is neither too hard nor too shiny.
White shirt
Classic white shirt can be combined with virtually any clothing – from jeans to elegant skirt.
Wear top 2-3 buttons undone to avoid too strict emission.
Cashmere cardigan
It is an indispensable part of the wardrobe of any woman over 30 years, holding the discreet chic. Stands killer with a silk dress and a skirt to the knee, and the right pants.
Quality cashmere cardigans are expensive but well worth the investment, as it is impervious to stretching. Of course, it must be cared for – to hand washing with lukewarm water.
Tailored jacket
With the shortening days and lowering temperatures, jacket became one of the best friends of women. The model that never goes out of fashion is tailored in length to mid-hip. In terms of material production, the choice is wide – leather, tweed, denim, velvet, or cotton, and the colour is recommended to be darker.
Different shades of brown are the best option. Short tailored jacket is extremely susceptible to combine a variety of clothing and accessories. You can wear it with almost all models dresses, skirts, tops, jeans and pants, and refreshing outfit with interesting belts and scarves. Another great advantage of this type of jacket is that goes for both women with boyish figure and more rounded.
Little black dress
This cloth piece has long been seen as the very epitome of classic elegance. Cut must be clear, but the patterns are extremely diverse – both in terms of the type of sleeves and the neckline and buckling.
Note that this type of dress, as well as any other, must be precisely fitted, so be careful when you choose. In terms of material, an excellent choice for fall are crappy and cotton and knitwear. If you hold more extravagant look, do not hesitate to bet on the skin. Be bold in terms of accessories – the little black dress goes with almost all scarves and jewelry. When it comes to shoes stick to classic elegant style with high heels.
Jeans
A pair of high quality jeans is just as indispensable part of every woman's wardrobe as the white shirt and black trousers. As is well known, the variety of models on the market may feel light-headed and the biggest fan of shopping. But wearing a clean cut jeans never go out of fashion. Their other big advantage is that, unlike most models combine wonderfully with any clothing, shoes, and accessories, making them suitable for all events except the official ones. Note that it is extremely important to have your jeans just fits. Never choose tightly jeans, no matter you look too hot because convenience is always first choice.
These are the 6 autumn 2013 classic trends. Can you think of another piece? Share it with Care4Women!