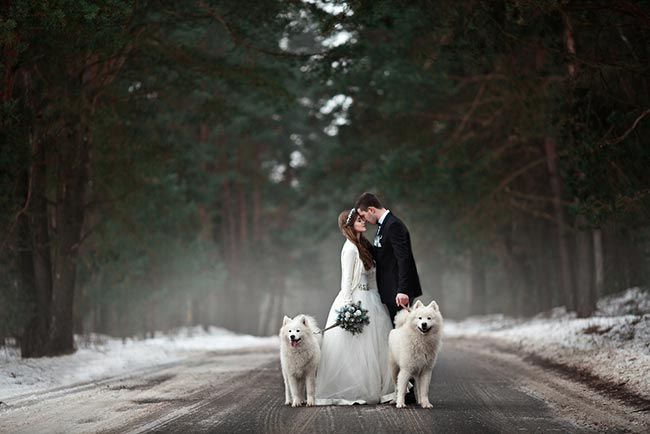 Figuring out what to wear to seasonal events is a tricky affair just as it is complicated to pick out what to put on for a winter wedding event.
Even though summer and spring weddings are popular and easier to pick out an outfit for, winter has its unique charm and mystical sense that makes weddings magical.
Fortunately, here are some style clothing pointers that should keep you looking elegant as you pick out something dazzling for the chilly occasion.
Making a Statement with your Cover Up
It's wise to invest in a cover up that will enrich your outfit because you will probably need to wear it a lot through winter.
Since we all know how weddings are often involving with so much moving around and spells of hovering, it is advisable for you to opt for a chic coat for winter.
If the coat isn't something you would see defining your style of clothing, then a cape is worth considering.
The important thing about choosing a cape when picking an outfit for a winter wedding is to make you comfortable in both outside and when you are indoors.
It will definitely be chilly out there and, so that you don't feel like whipping off; the only source of your warmth at the first opportunity, accessorizing with a brooch is recommended.
You could also make an essential layer of the cover up and use your blouse's pussy bow tie to sit on the coat's lapels.
The same effect can be achieved using a chunky necklace on a collarless coat.
Picking the Appropriate Footwear for the Winter Wedding
We all get that weddings make for the perfect chance to wear fancier shoes than we put on in our normal day to day lives.
However, dressing up for winter weddings needs you to put in more thought in your choice of footwear instead of just throwing in your favorite pair of mules with block heels.
An important thing to note on your choice for footwear on the winter occasion is you need to avoid suede shoes. The only way suede will work on a winter wedding is if it is set entirely indoors. Light colored kicks are also a miss for the chilly affair since a pair of pale hued shoes will be ruined on a rainy winter wedding day.
No one needs cold feet on a wedding day so you need to pick a pair of shoes that keep your feet warm and toasty.
Make sure this is the case by having on a pair of shoes that covers up the majority of your feet and doesn't leave you so bare lest the cold gets the best of you.
In case you were intent on a pair of jeweled sandals, make sure you also put on sparkly socks or have underneath some 20 denier tights.
The latter may once have been a fashion faux pas but they are currently socially acceptable.
Take Advantage and Suit Up
Suits are certainly an ideal option when dressing for winter weddings.
It's style clothing that is appropriately seasonal and will have you warmer compared to having a skirt or dress on.
A silk t-shirt or a slinky top underneath will do for an evening wedding while a printed blouse or shirt that's loosely tucked in will work well for a day time event.
Picking a white shirt or blouse is suggested so as to refrain from unintentional corporate connotations.
You may opt for flat or heels depending on your choice of trouser shape.
Flats go well with cropped trousers while heels do lend themselves well to flares.
A metallic or velvet co-ord would be a clever choice for a winter wedding since it would be an available option to recycle on New Year's Eve.
Embrace Color this Winter
You don't have to avoid color since it's colder and darker in winter.
There are many colorful options for winter weddings like a bright printed skirt or dress that would go along with a colorful blazer or blouse.
In case you are looking into block colors then going for rich jewel tones that won't have you looking out of place such as burnt orange and emerald green is recommended.
Conclusion
Unlike other seasons that you can easily pick a dress for a special occasion, winter needs special focus.
There are various elements to consider such as length, fabric as well as color.
At least now you have the pointers on the ideal picks, you can damn the cold weather and impress in the chilly occasion.