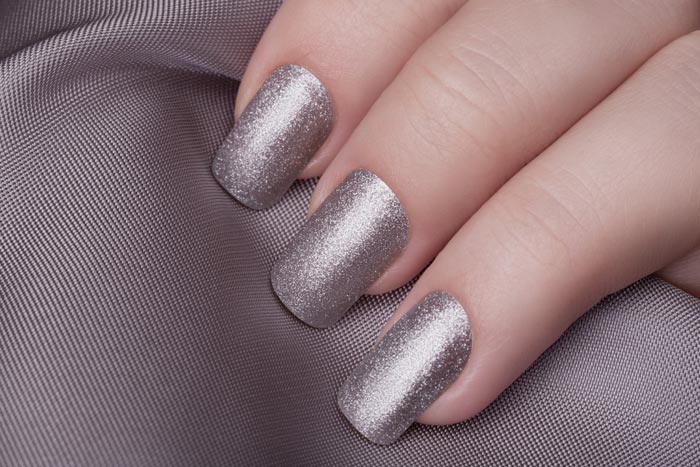 Chrome nail is the new, shiny nail art trend that use glittering silver pigmented powder to create a polished look.
This unique nail art was discovered by the Dail Charme Company. The polishes are hand mixed in small batches. The chrome nails stunning shiny colors captures the attention of all beauty experts all over the world.
To get the mirrored effect, the chrome nails have used different approaches. This includes the use of different colors such as lilac or dark gray chrome to get a luxe look.
Some have used metallic and glittery nail varnishes to achieve the reflective look.
Chrome Nail Powder
The chrome nail powder resembles the loose eyeshadow.
It is combined with soak-off gel for super long wear, and it turns your nails into mirror-like.
Chrome nail powder is a mixture of various ingredients:
Tin dioxide
Silica
Itanium dioxide
Aluminum
Moisture
Polyethelyne terephthalate
Epoxy resins
Fiberglass microspheres.
The chrome nails art powder enhances the smoothest, brightest shine with a mirror-like finish. The tons of variation in your nail look depend entirely on your powder color and base color; silver over black being the classic chrome manicure.
Some have a rustic chrome finish and others have a smoother chrome finish.
Requirements
For you to achieve the best in chrome nails, you need to find a nail tech to chrome up your nails for you.
BUT…
..you can also do it for yourself at home. Thus, it is necessary to have the following in order to chrome your nails at home:
A base color – this will depend on your choice.
A gel top coat.
A nail lamp – used during the curing steps.
A loose chrome powder
A sponge-tip applicator
Instructions to Achieving Chrome Nails
Apply the base color according to your preference. If necessary, apply two coats.
Apply a layer of a no-wipe gel top coat. This can be from the chrome or from any other brand. Cure it for only 60 seconds in UV light and 30 seconds in LED light. You can also use a wipe gel in which you will need alcohol to cleanse the cured gel. The best advocated clear no-wipe gel topcoat is the Gossip No-Wipe Top Coat. It does not leave sticky or tacky residues after curing; it has a glossy finish. To remove it, you require an acetone filed-off or a soak-off. It lasts for about 2 to 3 weeks and it is UV and LED curable.
It is made of the following ingredients: 2-Hydroxy-2-methylpropiophenone, Trimethylpropane Trimethacrylate, Polyurethane acrylate oligomers, Hydroxy Cyclothexyl Phenyl Ketone, and Hydroxyethyl methacrylate. In case of any irritation, you should rinse it immediately with water. The chrome product must be used with a tack-free soak off gel topcoat.
Apply a thin layer of the chrome nail powder pigment on your nail. You can achieve this by use of a silicon brush, gloved figure or a sponge-tipped eye shadow applicator to buff the thin layer. Rub it perfectly with pressure to achieve a smooth texture with no shimmer. Allow it to dry until you see the mirror effect.
Brush off excess nail powder by use of a table towel, nail brush or a lint-free wipe. This prevents the chrome from glittering or shimmering.
Seal the polish with a gel top coat and cure.
To ensure that the free edge is encapsulated, apply a hard gel over the enhancement and cure.
You can stick the chrome nails on your nails by use of a few drops of nail care glue or by placing them on a wet polish, and then cover them with one or two layers of a gel top coat upon drying.
Pros
The polish is claimed to be safe for your nail care. They are free from toxic chemicals such as toluene, Dibutyl Phthalate(DBP) and formaldehyde.
They enhance your nails appearance.
Cons
It is much thicker
It is less natural as compared to other nails.
It requires more ware time due to the need of a lot of curing that has to happen for chrome nails to look their best.
Conclusion
The mirror nails enhance the beauty of your nails. They have a modern sheen in which anyone would desire to wear for weeks. It necessary to ensure that you apply both the base and top coat since they are essential in chrome nails. Failure to apply the base coat, the mirror effect is not enhanced. For it to last long, you have to apply a top coat; failure to which leads to the mirror effect lasting for 2 hours only. However, you should be aware of the chrome fake nails.