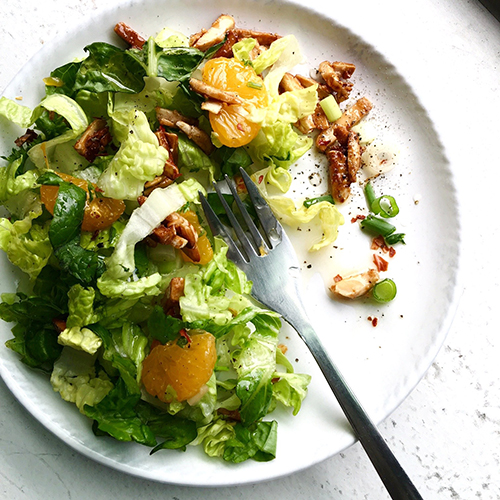 The perfect salad when you want to impress everyone.
Everything can be done ahead of time, so is perfect for the occasions when you are serving dinner in courses.  Everyone will ask for the recipe!
The almonds are caramelized and add a sweet crunch to the salad, the mandarin oranges add color. A favorite for sure.
Salad
1 head leaf lettuce (or 1/2 Romaine and 1/2 Red Topped)
3 Stalks celery (approx.. 1 cup sliced)
4 Green onions (sliced)
1 11 oz. Can mandarin oranges (drained)
Vinaigrette Dressing
Caramelized almonds
Combined first 4 ingredients in salad bowl. Cover and chill up to 3 hours, if desired. Just before serving, toss with vinaigrette dressing and sprinkle with caramelized almonds. Yield 6 to 8 servings.
Vinaigrette Dressing
1/4 Cup vegetable oil
2 Tablespoons sugar
2 Tablespoons white vinegar
1/2 Teaspoon salt
1/4 Teaspoon pepper
5 drops hot sauce
1 Tablespoon parsley
Combine all ingredients, and chill Stir well before serving. Yield 1/3 cup.
Caramelized Almonds
1/2 Cup slivered almonds or pecans or walnuts
4 Tablespoons sugar
Combine ingredients in a heavy saucepan. cook over medium heat, stirring constantly until golden. (4 to 5 minutes). Pour onto wax paper and cool. Break into pieces and store in an airtight container. Yield 1/4 cup.
Hint: Cook sugar alone until melted, then add nuts to brown, and turn out onto buttered cookie sheet.