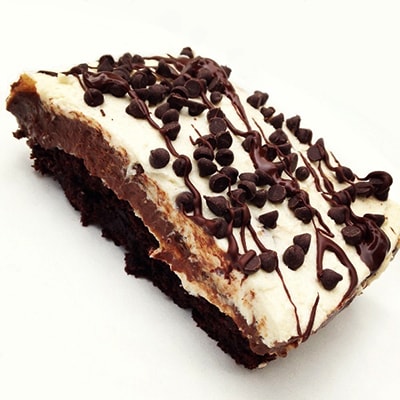 This is a recipe for Chocolate Lasagna, a dessert you don't want to miss because it's so delicious.
Layers of crushed Oreos, whipped cream cheese, whipped cream and chocolate pudding make this the ultimate go-to party dessert.
It looks beautiful and it tastes amazing and kids and adults will be coming back for more.
The best part is (other than being delicious) is it's easy and fun to make.
In my house we like to drizzle hot fudge over the individual portions – yum!
Chocolate Lasagna Ingredients
1 pkg Oreo cookies, not double-stuffed
6 tbsp butter, melted
1- 8 (oz) pkg cream cheese, softened
1/4 cup sugar
2 tbsp cold milk
1- 12 (oz) tub Cool Whip, divided or fresh whipped cream
2 – 3.9 (oz) pkgs Chocolate Instant Pudding
3 1/4 cups cold milk
1 1/2 cups chocolate chips, mini
Hot Fudge (optional)
Instructions:
In a food processor pulse the Oreos until they are crumbs. Pulse in the melted butter. Press the Oreo and butter mixture evenly in to the bottom of a 9″ x 13″ baking dish.
Place in the refrigerator.
In a stand mixer fitted with the paddle attachment on medium speed, mix the cream cheese with until light and fluffy.
Add the 2 tablespoons of cold milk and sugar, mixing well.
Switch speed to stir and add in 1/2 of the Cool Whip until combined. Spread cream cheese mixture over cookie crust and return baking dish to refrigerator and let chill for 10 minutes.
In a large bowl using a handheld mixer, mix together instant pudding and 3¼ cups cold milk until pudding starts to thicken.
Spread the pudding over the cream cheese layer. Return baking dish to refrigerator and let chill for 10 more minutes.
Spread the remaining Cool Whip over the pudding, then sprinkle mini chocolate chips over the top.
Chill in fridge for 4 hours or freezer for 1 hour.
Enjoy!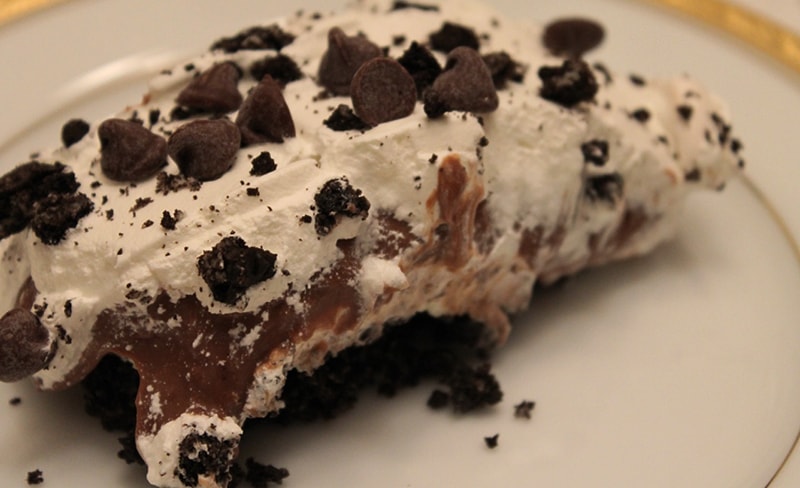 Great Tools:
KitchenAid Hand Held Mixer