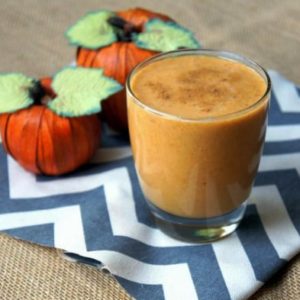 Did I say that pumpkin oatmeal was one of my favorite fall breakfasts?
Well technically it still is but this pumpkin smoothie is ammmaaazzzing.
I wish I could give you one right now because you wouldn't believe me when I tell you it's 100% (1000%) healthy. It's like a pumpkin milkshake. It's like magic.
When I drink smoothies for breakfast I usually cook up a couple of boiled eggs to eat on the side for some added protein staying power. Some mornings I'm too cold for smoothie drinking but that doesn't stop me from enjoying one later in the day for dessert.
After you've made it once and fallen in love try adding a one or two handfuls of baby spinach next time for an even bigger nutrient boost. Don't be scared – you won't even taste it! Vegetables for dessert – you're welcome.
Ingredients
1/2 cup fat-free vanilla yogurt
1/2 cup unsweetened almond milk OR ½ cup skim milk
1/2 frozen banana
1/2 cup pumpkin
1/8 tsp pumpkin pie spice, to taste *
1/8 tsp cinnamon, to taste*
baby spinach (optional)
Instructions
Put all ingredients in blender and blend until well mixed.
Enjoy!
Notes
* I tend to add a little extra as I like my smoothie on the spicy side
Pumpkin Pie Smoothie Recipe