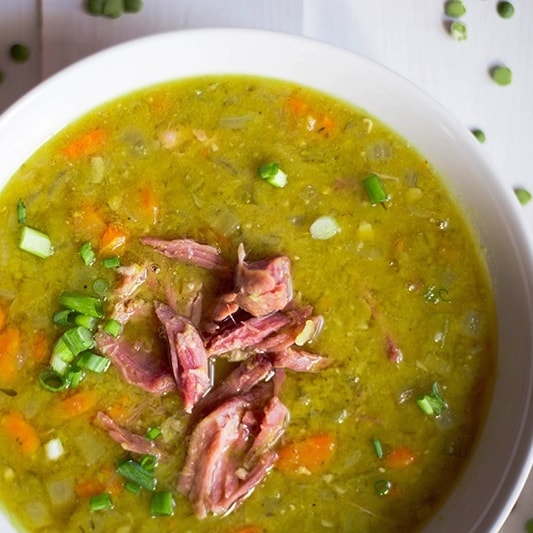 You have stumbled upon the easiest and best Split Pea Soup recipe out there.
And it's that time of year again, when you want something warm and comforting to thaw you out from the harsh winter cold.
This recipe combines delicious split peas, fresh vegetables and a savory ham bone to turn your soup into a meal.
The added meat from the ham bone compliments the flavor from the split peas perfectly.
And, if you'd like, pair it with a chunk of crusty rustic bread and you'll be happy and satisfied all night long.
Ingredients
1 cup yellow onion, chopped
2 cloves garlic, minced
1/8 cup olive oil
1 bay leaf
1 tsp kosher salt
1/2 tsp pepper
2 cups carrots, finely chopped
1 cup potatoes, small dice
1 pound dried split green peas
8 cups chicken stock or water
1 ham hock
Instructions
In a 4-quart soup pot over medium heat, saute the onions and garlic with the olive oil, salt, and pepper until the onions are translucent, 10 to 15 minutes.
Add the carrots, potatoes, 1/2 pound of split peas, chicken stock and ham hock.
Bring to a boil, then simmer uncovered for 40 minutes.
Skim off the foam while cooking.
Add the remaining split peas and continue to simmer for another 40 minutes, or until all the peas are soft.
Stir frequently.
Remove bay leaf and the ham bone.
Using an immersion blender, puree minimally.
Remove any meat from the bone, cut it up and return it to soup pot.
Taste for salt and pepper, adjusting as necessary.
Serve & enjoy!