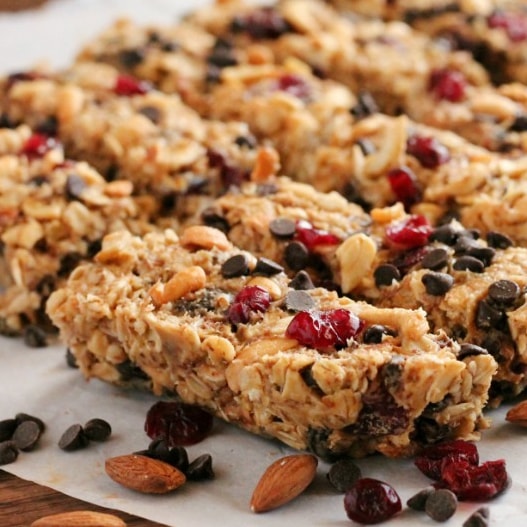 This is easy homemade Granola Bars recipe.
Mix in the amount listed under each category, but choose your specific ingredients.
I can't guarantee any combo would turn out great, but it's a flexible recipe.
I have bolded the ingredients that I generally stick to when I make these….and I generally stick with the same thing once I know my kids and husband will eat them.
Rolled Grains – 5 c
Old Fashioned Rolled Oats, Quinoa flakes, or Rye flakes
Spices – 1-2 T
Cinnamon, Ginger, Vanilla, Cardamom, and/or Nutmeg
Nuts, Seeds – 1 ½ c
Almonds, Walnuts, Cashews, Pecans, Sunflower or Pumpkin seeds
Ground flax seeds – ½ c
Sticky sweetener – 2/3 c
Date paste, Honey, Molasses, Maple syrup
Dried fruit – 1 cup
Raisins, Apricots, Dates, Figs, Prunes, Cranberries, Pineapple, the list could go on….
Binder – 1 cup
Almond butter, other nut or seed butters, unsweetened applesauce (may not bind as well as a nut butter)
Essential Oils — 3-5 drops (OPTIONAL)
Wild Orange, Lemon, Cinnamon, OnGuard blend
Preparation
Preheat oven to 325 degrees F. Line an 8×8 inch baking pan with parchment paper.
In a large bowl, mix together the sweetener, binder, spices and vanilla.
Stir in the grains, making sure that it is evenly mixed. Add the nuts, seeds and dried fruit.
Turn the mixture out into the baking pan and press into the pan, making sure it is evenly distributed and tightly packed. Bake for 25-30 minutes.
Remove from the oven and cool in the freezer until the bars are firm, at least 1 hr.
Remove from the pan and cut into bars. Store in airtight container for up to 1 week or keep in the freezer individually wrapped for longer term.