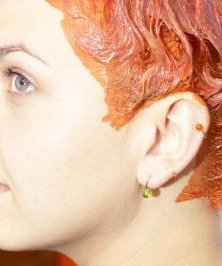 And on the most experienced can happen mess with hair colouring at home. Slight negligence is enough skin to acquire a nasty stain that you will want to eliminate as soon as possible. When it comes to stains from coloured hair, it is advisable to be guided by the principle "better to prevent than to cure." However, we will also try to help everyone to remove dye from skin with 4 easy tips.
Preventive method
Vaseline, a hair regenerator, body lotion. The best way to prevent the appearance of spots while colouring the hair is to create a slick barrier between skin and colour. Before you start colouring, brush risk areas (the skin of the neck, forehead, ears, and temples) with Vaseline, hair regenerator or oily lotion and colour cannot soak into the skin and create blemishes.
However, if done with coloured line around the hair or blemishes on the hands, you can try to remove it with:
1. Baking soda + detergent
Make a mixture of equal amounts of baking soda and a means of washing the dishes. Apply the mixture of damp cloth and gently rub the stain until gone.
2. Toothpaste
Toothpaste contains abrasive enough to remove stains from hair colour without too much to dry the skin. Apply a small amount of toothpaste on the stains and leave a few minutes. Then, with a damp cloth or sponge rub the stains and wash skin with water. Paste should not contain gel, and preferably be designed for whitening teeth.
3. Baby oil
Baby oil is a friend of sensitive skin, but the enemy of spots of hair colour. Soak cotton or sponge with baby oil and rub in a circular motion stains on skin. Will quickly notice that they disappear. Or brush the stain with baby oil and leave it overnight. Wash the next day and along with it will disappear and unpleasant stain.
4. Acetone / nail polish remover
Acetone is very effective at removing stains on skin. But, avoid the use of stains on the face, especially the eye area because the skin is more delicate. Do not use acetone if you have sensitive skin. It is safest to use acetone if stains appear on the hands or nails.
Please note that the effectiveness of each proposed "removers" varies depending on the colour and type of your skin. Much easier to remove dye from oily skin rather than dry skin.
It is important not to wait. Remove the stain as soon as you notice on skin. The more you wait, the harder it will be to get rid of it.
This is a guest article written by Khairmax Beauty – London studio for luxury hair extensions