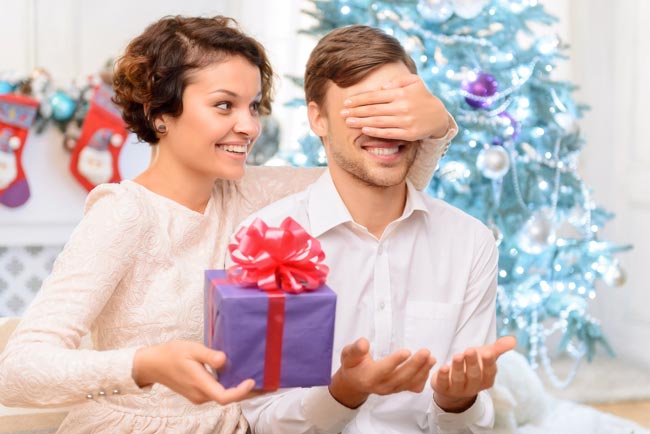 This love weekend is a special day to show your boyfriend or husband how much you love and care for him. It is a weekend to strengthen your relationship and boost the trust that you have for each other. Surprise him with a gift to enlighten your romance and make you glued together. This gift is a way to show him your affection to him and a special way to express how you love him. This is a weekend to enhance your closeness to him once again. You can choose a unique gift for him apart from the usual chocolates and rose flowers to express your love. Be unique and help him realize how important he is to you. Pick a gift from his interests, hobbies or find him something new this love season.
Gifts To Surprise Him With This Love Weekend
There are several ways on how to surprise your boyfriend on valentine day. Keep in mind his hobbies, interest and his test for a perfect gift for your boyfriend or husband this love weekend. Make him feel appreciated and love through a gift. Gifts are perfect way to show him the how special he is to you. The following are unique gifts for him this love weekend:
1. Personalized Video Card
Send him a personalized video card that contains you beautiful photos. It might also contains the best moments and photos of your relationship. You can choose to play his favorite music on the background as this photos slide. This will remind him of your best moments that he admires and wish for more. It is a way to rejuvenate your love and a way to thank him for the period you have been together.
2. Leave Him Love Message On Sticky Notes In His Car
Write for him on sticky notes how you love him and leave them without him noticing. Reassure him of your love and express you gratitude for his love towards him. You can choose to stick them on the sunscreen for him to notice easily the moment he enters the car. This will make him understand the fact that you care and love him.
3. Smart Watch
Buy for him a smart watch. Most men love watches and buying your boyfriend or husband is a great way to express your love. It is their most valued accessory and a sign of love. Check for trendy and unique watch for him. Choose a watch that has most advanced features as technology is really embraced in the current world.
4. Beard Kit
Buy him a kit that contains items to help him have his beard done. This is a great way to show him that you care about how he looks and you love seeing him looking good with done beard. This will help him save time and money to parlor to have his beard done. He can do his beard at the comfort of your home.
5. A Card
Write him a homemade card to appreciate him this love season. This is the common way of how to surprise your boyfriend on valentine day but the homemade card makes it unique. Express how good he has been to you and how you wish to be treated the same. Tell him how lucky you care to have him and how much you love him. Express your heartfelt feelings to him. You can choose to send to him or take it yourself to him. Let him know your feelings and undying love.
6. Laptop Bag
Buy him the latest laptop bag. This is a special gift for him because men love their gadgets and buying a gift to keep it safe is a sign of your care. Show him that you love him and would help him keep safe or maintain his valuable gadget like a laptop. Buy a durable and fashionable bag for him.
7. Pair Of Trendy Shoe
Buy him the latest pair of shoe for him. This is to ensure that he will use them for a period of time. This will help him realize how much you care and love him. How he looks matters to you and seeing him in that perfect shoe expresses your love. Make sure you know his size for a perfect fit.
Conclusion
It can be difficult to choose a perfect gift for your husband or boyfriend but the varied gifts eases the process of knowing the right gift for him. From the usual ways to express love, try new and exciting gifts for your boyfriend.