Holiday season is growing oh so near which means it's time to gather and eat.
That's what we do, right?
My first potluck of the season is being held this Thursday so I figured it was a good time to brush up on our potluck survival skills.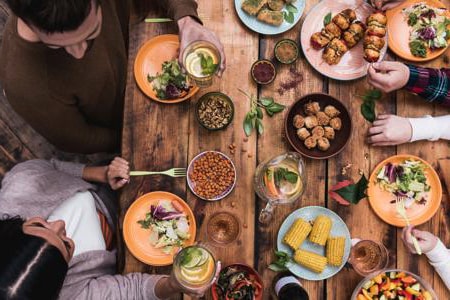 When I was losing weight I wasn't sure if I'd be able to maintain my healthy eating habits in the face of the holiday season, a.k.a. food season, a.k.a stuff-yourself-like-a-turkey season.
I'm happy to say that it's possible to have your cake and eat it too.
Here are a few simple tips to get you through.
Potluck Tips
Make sure to bring a healthy dish of your own — this ensures that you will have at least one healthy option to munch on.
Drink a few glasses of water and have a piece of fruit before you go to the potluck. If you aren't starving when you get there you'll be less likely to overeat.
First load your plate with items that look the healthiest (but tasty too, of course), especially fruits and veggies. Go back through the line and fill in the little space you have left with a few bits of the other dishes you wanted to try.
Concentrate on being social – keep moving and talk to different people so that your focus isn't on food.
Before going back for seconds drink a glass of water and use a smaller dessert plate if you do go back for more.
You shouldn't feel deprived. If you want something, just eat it. Instead of eating a whole piece of pie try getting a half serving and see if you feel satisfied with that.
Once you finish eating chew a piece of gum so that you are less likely to keep nibbling.
If you are hosting the potluck encourage your guests to bring a healthy dish.
Post A(potluck)calypse
Plan on exercising that evening and go for a walk right after the party if possible.
Keep drinking water to aid in digestion and combat any extra salty foods you may have eaten.
If your potluck is during lunch plan ahead on making a lighter dinner that night.
If you feel like you overdid it ask yourself what you can change about the situation next time to make it easier on yourself.
Healthy Potluck Recipes – Here are a few recipes I picked up around the web
What is your favorite dish to bring to a potluck?
Do you have any more healthy strategies to add to the list?
Share your comments below.